Fish Refrigerators
Hygienic • Reliable • No Maintenance • CFC Free
ALL Fish Cabinets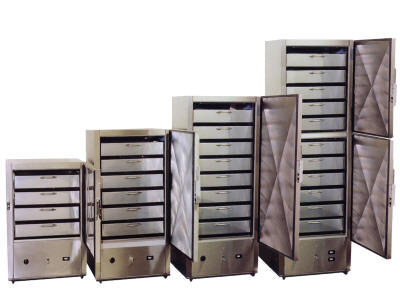 are constructed entirely from 304 specification stainless steel, including the drawers.
Temperature -1°C to +2°C for normal fresh fish. Keeps lower or higher temperature with adjustment of the mechanical thermostat.
Each drawer has a drain plate which stops the fish standing in it's own liquor. This does not drain into the cabinet but must be washed out when the drawer is emptied.
The cabinets have a drain to the front for defrosting and cleaning only.
All cabinets are manual defrost, approximately once a week depending upon usage.
A dial thermometer is fitted to all models as standard.
Refrigeration: A sealed system with static rear mounted condensor, no fans, no maintenance required. CFC free refrigeration.
Available in 10-, 15-, 20- and 30-stone capacity size.
Specifically designed to withstand the rigours of damp and corrosive conditions.
Full system refurbishment service is offered on cabinets returned to the factory.
Registered Design
Manufactured in England